IPPUDO JAPAN
Why does Ippudo serve cold rooibos tea? A closer look at this fascinating tea from South Africa
When they're served this drink instead of cold water, customers often ask "What kind of tea is this?" It's rooibos tea, grown in South Africa and beloved around the world. This time we talked with Clinton Gass, president of Rooibos Marketing Ltd., the firm promoting the tea around the world.
WORDS & PHOTOS by KOU MAESONO
Why Ippudo serves rooibos tea
Customers are always served rooibos tea as soon as they sit down, in almost all our establishments.
Rooibos tea is only cultivated in the Cederberg area of South Africa. Calorie- and caffeine-free, rooibos is also rich in anti-oxidants and polyphenol, making it a popular drink among heath- and beauty-conscious people worldwide. Ippudo began serving customers cold rooibos tea from about 2001. It used to serve wheat tea or ice-water, but switched over to rooibos tea in all restaurants because its clean taste went so well with their pork bone broth. Today, repeat customers have come to appreciate rooibos tea.
Talking with the man who made rooibos tea popular
Clinton Gass of South Africa, a handsome, friendly company president.
To learn more about the fascination of rooibos tea, we spoke with Clinton Gass, president of Rooibos Marketing Ltd., the firm introducing the tea worldwide. A native of South Africa, Mr. Gass first came to Japan at the age of 23 to practice aikido. He received his MBA at about the same time, and began working to increase the popularity of rooibos tea from his homeland of South Africa.
How is rooibos tea enjoyed in South Africa?
G

:We drink it instead of black tea. South Africa was a British colony for many years, so we have had the custom of drinking tea for generations. Rooibos is seen as a sort of healthier type of black tea, and it's commonly drunk with milk and sugar, accompanied by cookies at tea time. It's an everyday drink, like green tea to the Japanese.
The standard at tea time, with cookies and chocolate.
How did you spread the drink in Japan?
G

:The first export to Japan was in 1983. Both Japan and Germany were among the very first export nations, and in both cases it was marketed as a health tea. I thought it should also be marketed as a delicious tea for daily consumption, though. When I first ate ramen at Ippudo and they served me rooibos tea, I was astonished.
Yes, Japanese customers there appreciate rooibos tea, too.
G

:Ramen is a "national food" of the Japanese, and occupies an important position in their daily lives. I think it is wonderful that this tea from South Africa can find a way into the daily lives of the Japanese, and other foreign people. I often ask people if they've ever tried rooibos tea, and when they say no, ask them if they've ever eaten at Ippudo. When they say they have, and I tell them that was rooibos tea, they remember it and the tea perfectly. Ippudo has really helped me introduce rooibos tea to so many people here.
There's more! Enjoying rooibos tea
As an expert in rooibos tea, how would you advise us to enjoy it?
G

:Well, as I mentioned earlier, drink it just like black tea. It's delicious hot and strong as a milk tea. It's growing in popularity as a café drink, too, like rooibos cappuccino and rooibos espresso. It's great mixed with alcoholic beverages, like chuhai, or a vodka cocktail with mint leaf. It's said to make alcohol easier to digest, so there's less left by the next morning.
That's wonderful! I'm ready to try that right now!
G

:People drink it when they've caught a cold, too. Just add ginger or cinnamon to hot rooibos tea and your body really warms up. I recommend trying a drink of rooibos if you've lost your appetite, or eaten or drunk too much. And, while it might be difficult for some, I take a rooibos bath every night. I put the leftover tealeaves in a net and drop them in the tub… I even got a black bathtub so the tea wouldn't leave rings!
During the harvest, from January to April every year, Mr. Gass goes back to the fields to talk directly with the farmers. As rooibos tea gains popularity around the world, it is possible production might not keep pace with demand. "It's a delicate plant, and can be easily damaged by adverse weather, so cultivation is not easy. It still only grows in South Africa, and it's recognized as a very valuable plant there exactly because it likes that environment. I want to deliver it to as many people as possible, as a product of my homeland," he explains.
Rooibos grows in Cederberg, South Africa. These highlands are at least 450 meters above sea level, with temperature ranging between freezing in the winter and 48°C in the summer. The crop hasn't been successfully grown anywhere in the world except in this very special environment.
More than just tea! The Ippudo rooibos menu
A number of Ippudo stores already offer other products based on rooibos tea. The Lumine EST Shinjuku store, for example has developed Rooibos Tea Pudding, a popular dessert among women. The rich, slightly sweet pudding has the fragrance of rooibos tea. The Futako-Tamagawa Rise Shopping Center store and three others offer Rooibos Frozen, a colorful frozen drink combining fruit with rooibos tea. The new menu is already a hit on Instagram: very unusual for Ippudo!
Popular among women at the Lumine EST Shinjuku store for its gentle sweetness.
Rooibos Frozen is available at some stores, combining rooibos tea with selected fruit of the season and chocolate.
The take-home gift selection, Ouchi-de-Ippudo, now offers teabags in a newly designed package. Available at some stores and in the Ippudo online store, now everyone can enjoy rooibos tea at home!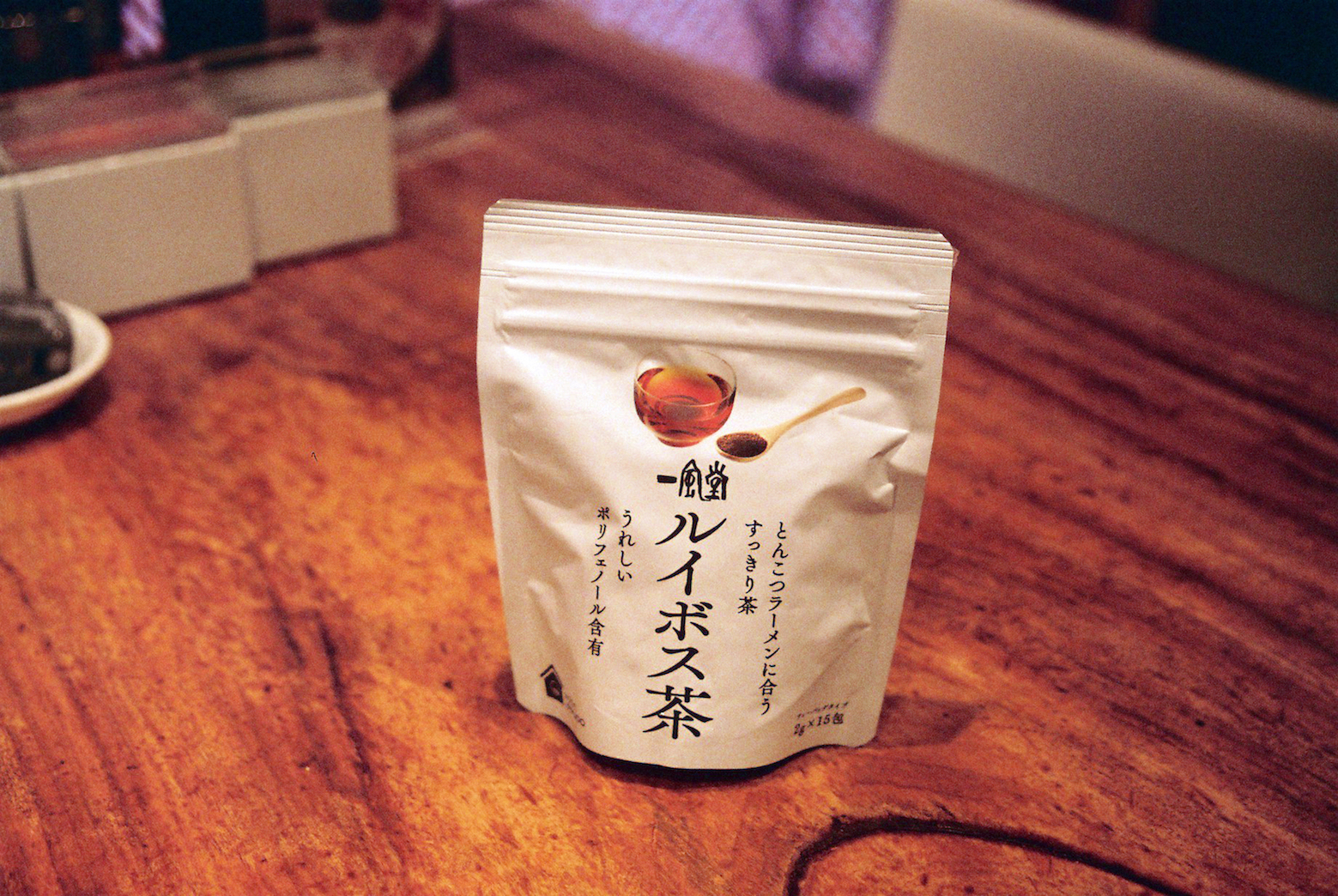 The package was redesigned in September 2017. 15 teabags for 432 yen (consumption tax included).
Clinton Gass
President of Rooibos Marketing Ltd. Rooibos, nurtured by the grand nature of the Republic of South Africa, is cultivated by contracted farmers. Mr.Gass exports the resulting rooibos tea, made under stringent quality control, to Japan, and is in charge of promotions. In addition to supplying manufacturers with rooibos tea as an ingredient for local manufacture, the firm also handles wholesale and retail sales.
http://www.rooibosmj.com
WORDS by

KOU MAESONO
KOU MAESONO
After working at a publishing company and in editing and production, joined Chikara-no-Moto Holdings in 2011, involved in Ippudo and other house brand promotion planning and advertising direction. Also handles SNS operations and editing of the IPPUDO OUTSIDE web magazine for Ippudo.