IPPUDO JAPAN
A new tasting Akamaru turned into a hamburger?
A dream collaboration between Hard Rock Cafe and Ippudo
On July 2 (Mon) a new dish called "Ippudo Double Roast Pork Ramen Burger" has been included in the menu of Hard Rock Cafe Fukuoka in Fukuoka city. This is a special hamburger created under the supervision of Ippudo, only offered for a limited time to coincide with "This is Hakata", a campaign to showcase local delicacies. When it first went on sale, it topped the sales of all hamburgers at the Fukuoka store, over-taking the "Legendary Burger", a signature dish sold at Hard Rock Cafes all over the world! Hard Rock Cafe and Ippudo, how was this unique combo created? This time, Ms.Sakiko Furubayashi, a writer living in Fukuoka will find the answer as well as taste this new hamburger to see what she thinks.
WORDS by SAKIKO KOBAYASHI
PHOTOS by KATAO BARI
What is a ramen burger?
Hello, to all those reading Ippudo OUTSIDE. I'm Sakiko and I have decided to make "burger writer" my profession. I am two years younger than Ippudo and my ideal man is someone who will cuddle me softly like a just baked bun and a dynamic man like a 100% pure American beef patty. Now, my mission this time is to taste and give my opinion on the "Ippudo Double Roast Pork Ramen Burger".
 
What is a ramen burger? This is something I haven't heard before. When you want to eat ramen, you should eat ramen and when you want to eat a burger you should have a burger. To a person who has been living a mediocre life, a concept called "Ramen Burger" was a shock to the system. Who in the world came up with this crazy, creative idea?
Let's hear the untold story behind its creation.
Mr. Hirokazu Hirose, GM of Hard Rock Cafe Fukuoka said that he was initially not keen on the idea. That's a lie. Because when I first exchanged business cards with him it had "ramen burger will definitely be delicious" written all over his face. But having heard his side of the story, Mr. Hirose had thought the whole thing through seriously.
From the grin on Mr. Hirose's face you can tell straight away that he found the ramen burger to be absolutely delicious.
"The ramen that Ippudo is selling in Fukuoka is around 800 yen. The price range is completely different to that of a burger sold at Hard Rock Cafe and I wondered whether it was okay to sell a burger costing over 2,000 yen under a Ippudo brand. I wondered what kind of impression a Ippudo fan would have", says Mr. Hirose
 
But that concern immediately went away. "That is because after tasting it, I felt strongly that this should become part of our menu". After hearing that I held back my urge of wanting to taste it straight away and I listened to what Ippudo had to say about all this.
 
The person who supervised the ramen burger was Mr. Tomoaki Shmazu, director of Chikara no Moto Company. According to Mr. Shimazu, who used to be a manager of Ippudo NY store, they once sold ramen burgers at their NY store.
Mr. Tomoaki Shimazu now looks after the domestic sales side of the business after having worked as a GM at their NY store.
"It was around 2012 to 2013 when ramen buns became popular. It became a huge hit in Brooklyn and so it was sold at the Ippudo New York store and also became quite popular there. Having had the offer this time and using our experience gained from selling ramen burgers before, I was keen on doing it again in Hakata, the place where everything began. Hard Rock Cafe supported us from the beginning. We've thought it over really hard as to what a local legendary burger should be", says Mr. Shimazu.
 
Local legendary burger? Yes! Ms. Sakiko, the burger writer, will explain. At Hard Rock Cafes all over the world, they come up with a burger using local delicacies and offer it as a menu item unique to each store and they call it a "local legendary burger". For example, in Yokohama they offer "Sukiyai Burger" because it is where sukiyaki started. In Roppongi, there are many overseas customers, so they offer "Wagyu Burger" and in Osaka they sell "Kushikatsu Burger" and so on. Therefore, you can enjoy a burger unique to the locality of each store. They say that around 2013 in Fukuoka "Hakata Ramen Burger" was born.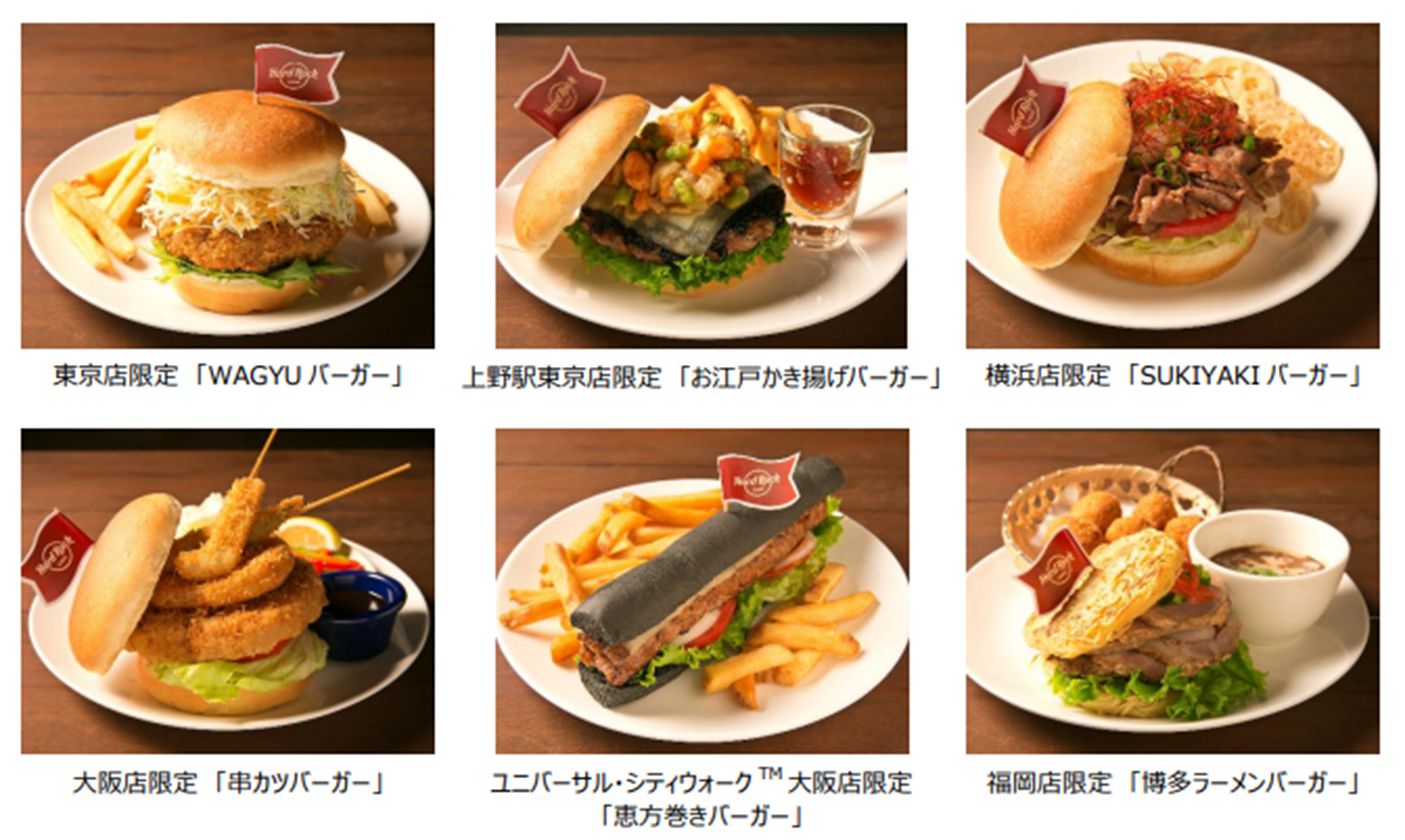 A list of local legendary burgers full of local appeal.
Hard Rock Cafe Fukuoka moved its cafe from Hawks town to Hakata station in 2016. This year a collaboration between Ippudo, a global brand which originated locally, eventuated with a new and revised version of "Hakata Ramen Burger".
 
Mr. Shimazu who took on the challenge. We had an image of an American burger having plenty of sauce and so with the trial burger we put sauce on the patty and grilled it and took it to Mr. Hirose for him to taste but he said that the taste of the sauce was too strong. So, we grilled the patty without the sauce and added a ripe avocado which he liked very much and was excited about. After going through much trial and error, what was created was a "Ippudo Double Roast Pork Ramen Burger" with double roast pork patties.
Ta-da! "Ippudo double roast pork ramen burger" is created!
The birth of a new Hakata gourmet meal, American style
The taste of Ippudo double roast pork ramen burger is based on its new tasting Akamaru. For the bun a bread is not used but a ramen bun, a thin noodle called "Square Bladed Noodle Strips No. 22" used for Akamaru which is grilled to perfection. For the thick patty, a finely chopped Ippudo pork back ribs and minced beef are mixed together. And spicy Akamaru ketchup made from spicy miso which is a symbol of Akamaru is added.
From the bottom there is the bun, then lettuce, patty, cheese and the avocado. Then, the patty again, cheese, fried egg and the bun. It is sure to surprise those who order it and to satisfy any empty stomach.
After tasting it, the bun is savory, grilled nice and brown with a crunchy texture. As you eat towards the middle there is the texture of a sticky ramen noodle. The ramen bun wets your appetite so much so that you'd think the noodle itself had flavors added to it.
 
There are two thick patties, a melting American cheese, a creamy avocado, a perfectly cooked fried egg capped off with a spicy Akamaru ketchup. We also recommend that you dip your french fries in the Akamaru ketchup. And the red pickled ginger on the side which is normally used on a ramen brings back fond memories of Hakata.
There is an amusing story behind every masterpiece!
Even during the actual tasting, Mr. Hirose and Mr. Shimazu cannot help but keep talking. They seem to be having a great time as though they have been friends for ages rather than two people only meeting to do business. As a burger writer, I want to dive into truth of the matter. I asked them after my mouth was full of noodles and patties and tasting the red pickled ginger to give my mouth a rest.
"I'm from the Kansai region and 12 to 13 years ago I would visit the Nagahori Ippudo store every week. Even when I used to live in Kanto or Kansai there was a Ippudo ramen store nearby and when people talked about ramen stores, the name Ippudo first came to mind. This time I am honestly so happy to be able to offer this ramen burger at our cafe hoisting the Ippudo flag and this is all due to the connection of coming from Fukuoka", says Mr. Hirose.
 
"Mr. Hirose gave us feedback regarding how long the noodles should be grilled, the taste of the sauce and other finer details. I felt that the attitude of maintaining the American style of doing things and the passion put towards a single burger is no different to what we do when we make ramens. It feels as though we are playing together in earnest to excite our customers instead of doing business and I enjoy that feeling", says Mr. Shimazu
The limited offer is extended till end of September!
The "Ippudo Double Roast Pork Ramen Burger" created by two soul mates brings out to the max the appeal of "New tasting Akamaru" and it is the ultimate ramen burger modified to suit the Hard Rock Cafe style. We are so pleased to announce that the offer of this dish has been extended till the end of September!
Hard Rock Cafe which was founded in 1971 has now over 180 cafes all over the world. There are many passionate Hard Rock Cafe fans who visit cafes all over the world to taste the local legendary burgers. Not only the die-hard fans but I would like also people visiting a Hard Rock Cafe for the first time to taste this Ippudo double roast pork ramen burger when they come to Fukuoka!
"Ippudo Double Roast Pork Ramen Burger"
2,280 yen (excluding tax/service charge)
Hard Rock Cafe Fukuoka
2 Floor, JRJP Hakata bldg., 8-1 Chuo-gai, Hakata station, Hakata-ku, Fukuoka
Opening hours: 11:00 – 23:00 (L.O.)
Term: Till September 30 (Sun)
Special offer: During the term, if you bring a receipt of purchase of a "Ippudo Double Roast Pork Ramen Burger" to Ippudo we will give you "a second serving of noodles or a topping of less than 100 yen" free of charge. (The above deal only applies to the following stores: Hakata station store, Nishi-dori store and Tenjin Nishi-dori stand)
WORDS by

SAKIKO KOBAYASHI
Born in Fukuoka. Became a writer after working as a librarian and an editor of an information magazine. A member of a writer's group in Fukuoka called Chikara inc. Currently disseminating gourmet food information through "Quitters Fukuoka", Fukuoka's restaurant information website which offers an honest review because the writers themselves pay for the meal out of their own pockets.