IPPUDO JAPAN
IPPUDO NY has carried off a new style of presenting Japanese food, in collaboration with Hakkaisan sake. 02
New York attracts various colorful descriptions, such as "intersection of business, fashion and art", "cutting-edge trend city" or "melting-pot." Yet every day, a new moniker emerges – perhaps because New York is a setting for intense competition. New trends emerge one after another, and more than the same number disappears.

IPPUDO NY opened its first location here in 2008 and has always sought to deliver something new to its sophisticated customers, with the cool interiors, chic staff uniforms and semi-regular pop-up events. We were the first to establish the style of 'Ramen Dining,' so that our customers could enjoy not only ramen but also drinks, small plates and conversation. An important part of this has been our pairing with sake.

We have sought to showcase the aesthetics of Japanese food, especially ramen and sake, to local diners and as part of this, IPPUDO NY has hosted various events with leading Niigata sake brand, Hakkaisan, since 2015. We have just held our latest event with Hakkaisan, featuring a one-off ramen dish by our ramen master, who recently became a Kikizakeshi (sake sommelier). What was the reaction from demanding New Yorkers?
※Here is the first part
Words & Photo by Kasumi Abe
Ramen using the characteristics of sake
This shoyu ramen was perfectly matched with Hakkaisan Yukimuro Chozo Three Years and the combination seemed to go down well with the New Yorkers. How did Chef Kanegae create this ramen? "I have been making ramen with sake for the past two years. This time, I created a new dish drawing on my improved understanding of the character of sake since becoming a sommelier," explained Kanegae.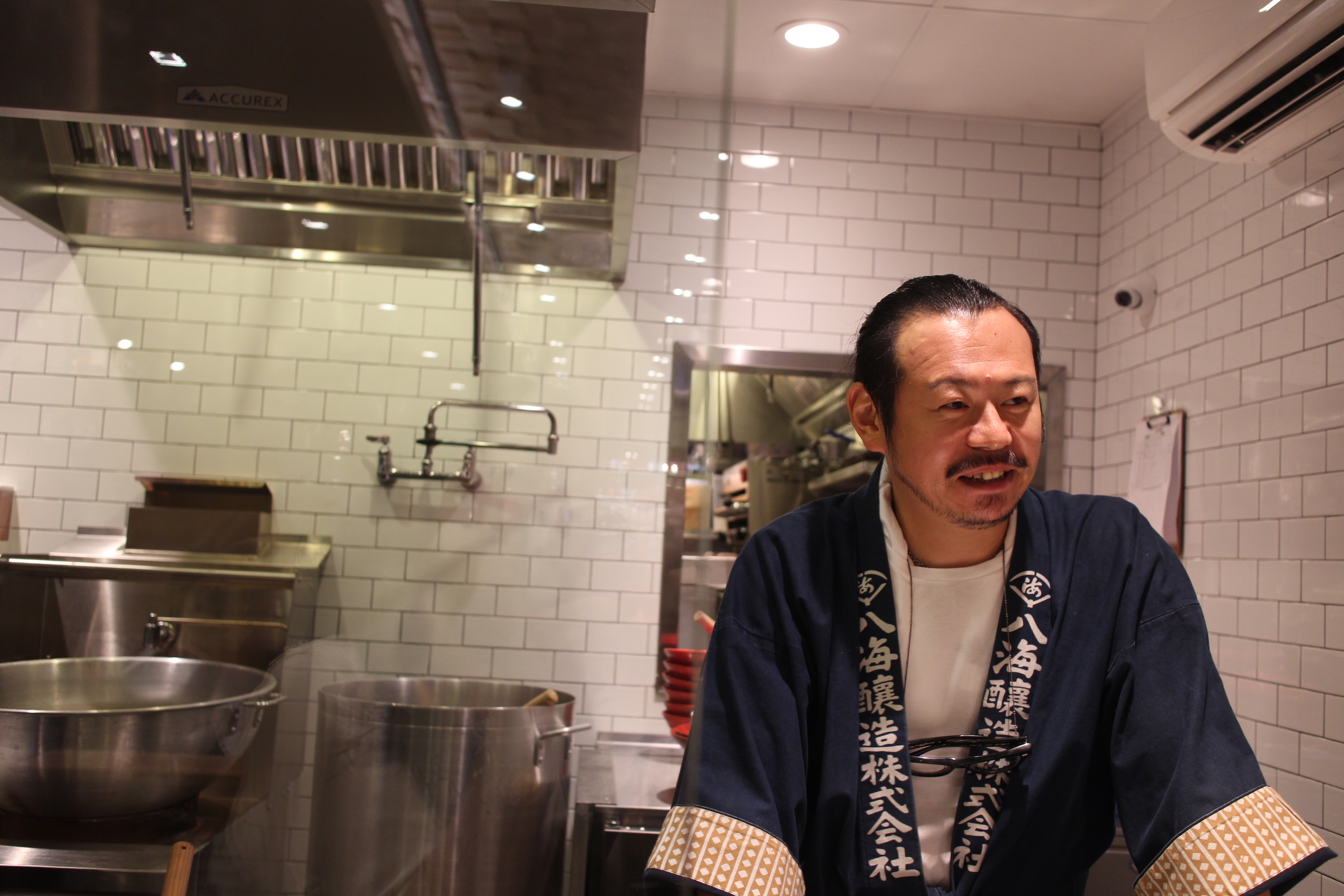 Kanegae's philosophy of helping customers enjoy sake is, "Hospitality comes first. People don't just enjoy a sake because it's been rated by an expert. "
Kanegae has worked in the Ippudo kitchen for over 19 years (10 of them in NYC). He became a sake sommelier in 2014 after management created a sake bar in place of the regular waiting bar at Ippudo Westside, their second store in NYC. It inspired him to learn more about his favorite drink, sake, and led to him becoming a sake sommelier. In March 2017, he visited the Hakkaisan brewery in Japan and sampled Hakkaisan Yukimuro Chozo Three Years. Of the taste, he says: "It was amazing; dry and very memorable." The impression stayed with him, prompting him to use it for the ramen in tonight's event, but without ruining the complex taste. "This ramen would not have been possible if I hadn't become a Kikizakeshi (sake sommelier)."
Some tips from Kanegae for making Hakkaisan eight peaks shoyu ramen.
When creating a new ramen, Chef Kanegawa always sketches images of the intended result on paper, and decides what ingredients he needs. Here are some details about each ingredients he has used.
Soup: "For this ramen, I wanted to use a mix of aged and non-aged bone broth flavors, so I mixed dashi (stock) from Rausu kombu (dried kelp), sakamai Yamadanishiki (floating on soup in the above/center photo) and dashi from Genkotsu (aged pork bones in the above/left photo) in a ratio of 9:1. I had already aged these by airing salted pork bones regularly, while stored at five degrees for three years."
Kaeshi: "I made Kaeshi from soy sauce, Rausu kombu, Hakkaisan special Junmai sake, and Hakkaisan Yukimuro Chozo Three Years and a bit of Chidorisu (vinegar). I added this Kaeshi to the soup little by little. The vinegar was important for freshness and a tighter flavor, because some oil floats on soup. This oil is a Kouyu (perfumed oil). I originally used Taihaku sesame oil (fragrance-free oil) and I transferred the scent of sakamai Yamadanishiki into this. I put only a few drops of Kouyu in the soup, so that when you sip a little you can taste the sake slightly. As you drink the soup, you notice the rice perfume ever so slightly."
"The soup finished cooking just two hours before the event started, because this soup is only good for three hours and the taste changes afterwards. I didn't warm it until the last minute. Three hours later, the sakamai Yamadanishiki would have opened up and the soup gone cloudy. I roasted a little unmilled sakamai Yamadanishiki, because I wanted to retain its bitterness. The solid zatsumi changes to umami in the mouth. If the taste is too clean, it won't leave a lasting impression."
Chef Kanegae continued, "For my soups I always blend different flavors such as bitterness, sweetness and acidity, so the taste lingers in the memory."
Noodles:"I didn't want the noodles propped up, so I made simple Hosomen (thin) egg noodles."
Presentation: "This was our third and final event with Hakkaisan, so I wanted to make a particularly beautiful ramen to celebrate. For added zest, I topped the noodles with chopped Karikari Ume (dried plums) and Kinpun (gold powder). This beautiful bowl is actually served for audiences attending a Kurodabushi dance (traditional celebratory performance), and not for ramen. However, I chose it because we were celebrating tonight, and it also evoked the feeling of drinking sake. When you hold this ramen bowl and drink, the gold powder is the last thing to slide into your mouth. I will keep these bowls for the sake bar at Westside.
After the event
"It was unique and the perfect matching event. IPPUDO wants to introduce Japanese food and we at Hakkaisan want to introduce our sake. I'm glad that IPPUDO fans got to enjoy our sake tonight." – Nakajima
"This ramen could only have been made by Chef Kanegae, with his understanding of the total profile of a Hakkaisan Yukimuro Chozo Three Years. Our past three events with IPPUDO NY have all been a success, and tonight in particular we have established a new triumph through this combination of ramen and sake." – Niikawa
"It was a fun evening, and I appreciated the support I received from so many people. For the two prior events I simply wanted to use sake, but this time through my perspective as a sake sommelier I approached the task with the view of a sake brewery. This was why I used techniques such as not filtering without warming up first, and I enjoyed this creative challenge very much. – Chef Kanegae
Incidentally, why did Chef Kanegae make this the final collaboration despite its success?
"Because it needs a lots of time. It took three years to correctly age the bones for bone broth, three months to make the Kaeshi, five days to perfect the braised pork slices and four days to make the soup. I decided from the outset that the event series would be completed once I had interpreted the three classic ramen bases: salt, miso and soy sauce." Kanegae expressed his hope that, although the event was now completed in New York, other IPPUDO locations in other regions or countries may one day expand on his precedent.
Through this event, I felt that IPPUDO NY is not just a ramen eatery, but more like a showcase for exhibiting the aesthetics and value of Japanese dining culture abroad – especially ramen. I am looking forward to seeing what IPPUDO will surprise us with in the near future!
WORDS by

Kasumi Abe / Editor & Writer
Over 20 years' experience as an editor and writer in both the U.S.A. and Japan. Reports on New York news for Japanese audiences. A former senior editor at a local Japanese newspaper in New York, and an independent editor/writer since 2014.
get_template_part('bottom', 'sns');?>